11:30 pm
[miss_angey]

Cat Lover, and Cat owners...
I was looking at my cat today, thinking of how much I love him and I thought about making a journal where everyone could do JUST that. So I decided to create a new community for us.
Do you have something to say to your cat(s)? Do they need a little reminding to NOT wake you up at 5am? Or would you just like to simply say how much you love them?
Share your Dear Cat letters here.
And have fun too!
dear_cat
For really wonderful people who share beautiful pictures of their cats, please join
kitty_palooza
and have some fun!
11:26 pm
[migoto_neko]

hi!
i just joined this community, and wanted to introduce myself. my name is Zara and i have 2 adorable 1 yr old cats who i spoil rotten :p just wanted to say hi!
Current Mood:
happy
10:44 pm
[nikka_2004]

Update
Yes, I know I don't write in this. I didn't even know I had 2 members! Sorry guys!!!
If anyone has any ideas on how to make this community cool and popular let me know!
I was thinking posting pics of cats and rating them 1-10... And then maybe finding cats that look like their masters, things like that.
4:46 pm
[nikka_2004]

My Babies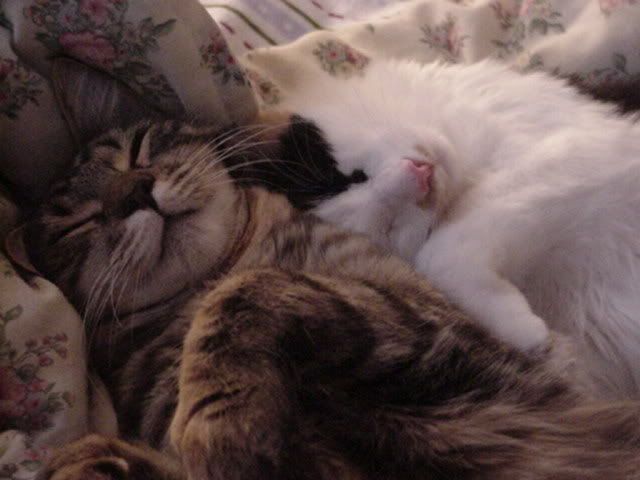 My Babies
Tibet & Bella - 7 months old
Tibet is Maine Coon Tabby
Bella is Long Haired Callico
They are from the same litter. They have very different personalities. Tibet is very docile, calm, and over affectionate. Bella is more independant, and very frisky. I always consider her the little prissy baby in the family. She can barely meow. She makes this weird racoon sound. We think they are crossed with Racoons (a joke)- since Tibet is a Maine Coon. It's so funny.